Rigging Boxes
All rigging boxes should contain the following
1 laminated rigging instructions card
2 pulling dowels
1 pair of gloves
1 measuring tape
1 pair scissors
6 extra rubber pads (for iako to ama, iako to wae, under quick strap ratchet)
2 rubber strips (for wrapping rigging)
1 roll Gorilla tape
2 extra rigging cords
4 ziplock bags to bag shims/pads
Race boat rigging boxes should also have
1 tow rope 100 ft  in mesh bag (see below)
2 extra quick straps
Rigging Cards
Rigging Iako to Ama
Rigging Quick Straps
Tow Bags
Tow Bag is required for the upcoming Berkeley Pier Race including all 2017 NCOCA LD events, all SCORA events and MBX.  Each club is responsible for securing and putting together their own tow bag.  One tow bag per canoe being raced. Here is a SCORA video on how to use the tow bags.
The bag is secured to the front iako with a bungy. The free end with the carabiner goes around the end of the iako and secures back to the line as it exits the bag. This goes on over the top of the spray skirts. Please don't open the bag unless you need to be towed! In the event of needing a tow, the bag is removed from the iako and opened. The tow line is removed and the smaller orange line is placed around the front manu and tied to keep the line on top of the canoe.
Pumps
The orange boxes use lead acid batteries and the charger with the clips on the ends.
The unlimiteds have an integrated pump that uses 18650 LiIon cells and the special charger for those cells.
 Weights
The spec canoes need to be 400 Lbs minimum to race. The newer canoes have a plastic fitting bolted under the seats to carry weights.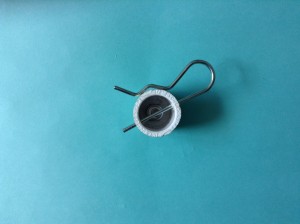 The pin is removed, desired weight slipped on, pin replaced. Not all weight plates will fit. Play It Again Sports has plates that will fit.