Junior Race Program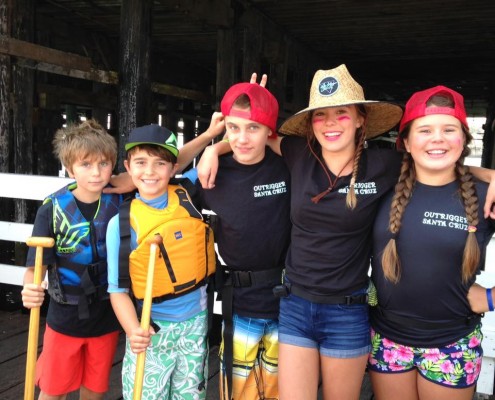 Info
Our junior race program encourages water safety, team work, physical conditioning, health and wellness.
It is open to all children ages 11 to 19. Swimming ability is required.
The cost is $75 yearly club membership per student and includes coaching, the use of canoes, paddles, PFDs, and race entry fees for sprint races.
Practice is on Sundays 11:00 to 12:30 PM and consists of on the water, on the beach, and in classroom activities.
Our first practice for 2017 will be April 23rd. Meet at N dock at the OSC canoes, Santa Cruz Harbor Crows Nest side.
Equipment and Clothing
Canoes, paddles, and PFD are supplied.
Prepare to get wet. Swim attire, layer with fleece, neoprene, nylon, and other synthetics. No cotton.  Bring a hydration bottle/camelback and a snack/energy bar.
Club discounts available for paddles and clothing.
Races
Our junior race team will participate in the following races;
July 8 sprints in Alameda.
August 19th Tony Gora short course in Santa Cruz.
August 20th Aloha Festival in Santa Cruz.
For more information contact OSC.