Outrigger Santa Cruz (OSC) is a 501(3c) non-profit organization whose mission is to develop, implement and promote outrigger canoe paddling for all people without regard to age, gender, creed, ethnicity, or physical ability or disability. You may have seen our canoes at the Santa Cruz Harbor near the Crow's Nest or perhaps racing across the bay to Monterey in one of our many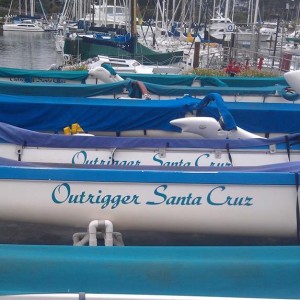 long distance races or at the Polynesian festival at the Santa Cruz Wharf.
OSC has developed programs for recreational paddling as well as a racing program that promotes fitness, teamwork, team building and cross cultural understanding. We also have year-long programs for teenagers and summer programs for keiki (children).
OSC has a highly motivated team of coaches, trainers and team members that have helped build the club into a competitive force in this traditional Hawaiian sport of Canoe racing by participating in local and regional races as a member of the Northern California Outrigger Canoe Association (NCOCA).
The OSC recreational paddling program provides a less competitive and relaxing way to get out on the water while still experiencing teamwork, nature and adventure.
Another key aspect of OSC is the community outreach we provide through a working relationship with local organizations serving able-bodied as well as disabled persons, mentally sound or challenged, or culturally disadvantaged children and adults. This includes organizations such as Jacobs Heart Children's Cancer Support services, Shared Adventures as well as many schools, churches, city and county agencies. Through our outreach programs, we promote cross cultural respect, environmental awareness and clean water activities as well as raising money for and donating time to various charities.