Steering
Outrigger Santa Cruz actively trains new and progressing steerers. In the interest of safety, everybody on a canoe should be able to steer in an emergency. In many conditions, paddlers in seats 1, 2, and 5 assist the steerer in seat 6, so club-wide skill in steering a canoe is essential. As conditions permit, Outrigger Santa Cruz coaches encourage members to practice steering in the various seats in a canoe.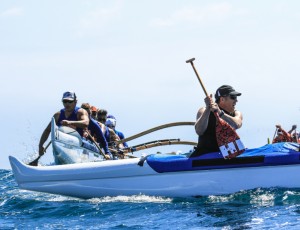 However, because of the responsibility for life and property inherent in the role of steerer, no one without formal certification can steer an Outrigger Santa Cruz six-person canoe, except under the direct supervision of a coach or other certified steerer.
To certify steerers, Outrigger Santa Cruz follows the process described below.
The first level of certification is to steer in the Santa Cruz small boat harbor. Without the supervision of any other certified steerers, a steerer at this level can steer a crew from the back of the harbor to just inside the harbor mouth. At this level of certification, a steerer can NOT take a crew outside of the harbor mouth without the direct supervision of a second-level certified steerer, either onboard the same canoe or in an accompanying canoe.
The second level of certification is to steer beyond the mouth of the Santa Cruz small boat harbor. At this level, a steerer is expected to show sound judgement about how far from the harbor to paddle, taking into consideration the conditions of sea and weather and the skill level of the crew.
There are occasions when the conditions are so benign that a newly certified steerer can quite safely take a beginning crew as far as Natural Bridges Beach or Capitola. However, there are occasions when conditions are so extreme that an expert steerer should not take even an expert crew out of the harbor. Because there are so many factors and variables involved, Outrigger Santa Cruz does not have levels of certification beyound these two. Instead, the Outrigger Santa Cruz steering certification committee approves steerers when the committee members are confident not only in the steering skills of an individual, but also in that person's judgement about when and where it is safe to paddle.
Club members interested in becoming certified steerers should express their interest to their coaches. At their discretion, coaches will train novice steerers when sea, weather, crew, and workout conditions are appropriate. As novice steerers' skills improve, coaches train them under increasingly challenging conditions. Our steering certification committee members regularly consult together about the progress of novice steerers. When the committee decides that a steerer has earned the responsibility to steer crews without supervision, our head coach announces the certification of that individual at the earliest possible monthly Outrigger Santa Cruz club meeting.
Our steering certification committee uses multiple criteria for evaluating the skill of steerers, including the ability to:
Steer straight
Turn and maneuver around obstacles
Navigate under challenges ranging from clear and calm to dark, foggy, and stormy
Read and respond to swell, wind, currents, and waves
Provide effective leadership
Communicate and command clearly
Right a capsized canoe quickly and safely
Show good judgement on safety and crew mates' comfort
Many of these factors do not lend themselves to easy, objective measurement. As with steering itself, certifying other steerers requires good judgement. Because of the responsibility involved with steering, our coaches take a very conservative approach to certifying steerers. However, through practice and perseverance, a dedicated novice steerer is likely to gain eventual certification at one or both of these levels.
Steersperson Study Guide